I don't know why, but I have the feeling that having dental bridges is kinda' old fashioned. What I mean is that it is not very popular nowadays to have them installed in someone's mouth.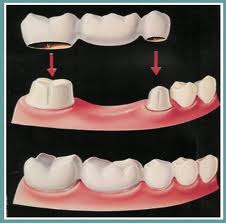 So to start with, what is a dental bridge?
A tooth bridge is a dental restoration that is used to replace a missing tooth by joining adjacent teeth or dental implants. A dental bridge can be installed on the front teeth, although this is not so pretty (this is my personal opinion).
Why are these teeth bridges used?
A teeth bridge is often used to restore your smile, your ability to properly chew and speak or bite properly by replacing missing teeth. You might wonder how can a dental bridge work, but it can surely prevent remaining teeth to drift out of position too.
What types of dental bridges are available?
Mainly there are 3 main types of dental bridges:
A traditional bridge (not a city bridge though ) is a a crown for the tooth or implant on both sides of the missing tooth, with a bridge in between. Traditional bridges are the most common in dental practice and are made of either porcelain fused to metal or ceramics.
A cantilever dental bridge is used when only one adjacent tooth is available next to a missing tooth or teeth. With this solution, you end up having a neat fixed bridge.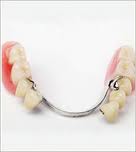 Resin-bonded bridge are made of plastic and it is supported by a metal framework. It has metal wings on each side, that are bonded to the existing teeth. Usually this solution is implemented, when a temporary dental bridge is needed. At a further dentist visit this temporary bridge is going to be changed to a permanent bridge for teeth. The reason why these temporary solution is needed is to find out if the patient develops some dental bridge problems.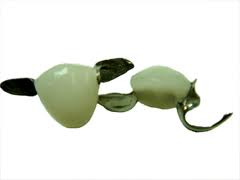 What more can we find out about the dental bridge procedure?
During your first visit, your two adjacent teeth are filed down, and a sample is taken using  a special paste to make an impression of the teeth space where the bridge is needed. This procedure is pretty much the same as the dental crown practice. Using this sample, the dental bridge is fabricated by a technician or an automatic software driven machine.
At your second visit, your new, permanent bridge is checked and adjusted, to ensure proper fit. In case you are receiving a traditional bridge, it is temporarily cemented in place by the dentist for some weeks of time in order to be able to do some further adjustments if needed. If everything is found alright, the bridge can be permanently cemented to your adjacent teeth.
How much does dental bridge cost?
The cost of dental bridge varies depending on the type/material that the bridge is made of and the area where the procedure is performed. The dental bridge price can increase big time in case you are choosing a golden or a gold-plated one. Dental insurance is most likely paying part of the tooth bridge cost, but don't forget to check your own insurance and individual dental plan.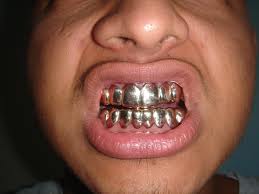 A shiny golden brigde someone?

Do you recognize easily if someone has bridges for teeth? Is it ugly? Or how can you tell that someone has tooth bridges?
When installing a bridge teeth must be filed down drastically even if they were totally healthy before. So this is why I find this procedure kinda' old fashioned.