Wow! Is this possible? YES! With something that is called composite veneers!
I have already mentioned veneers in general, so you probably already know that when a thin shell is applied to a tooth after a layer of enamel has been removed, the new layer that is put in place by the dentist is called an instant veneer. These shells can be made of made of porcelain- and composite materials as well. Composite veneers are fabricated inside the mouth by the cosmetic dentist, while porcelain veneers are produced at a dental laboratory by a technician and then put in place by the dentist.
Composite veneers often are called "composite resin veneers", where resin is nothing more than a filling material that resembles the color of your teeth, or a bit brighter in order to hiding present stains on teeth. This plastic like material can be used to hide fillings as well, and can be further manipulated to cover over a tooth, creating veneers and giving your teeth a whole new look.
Composite veneer installation is often completed in one dental visit, where the "in chair" time is around 3 hours, depending on the amount of work required mostly for the preparation.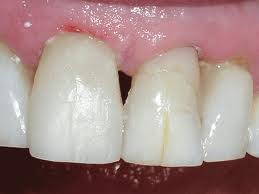 On the other hand, composite veneers are approx. 20 % cheaper than their porcelain variants, and are often covered by insurance with a patient paying up to 80% off the total cost.
Composite veneers are generally used for smaller problems, like minor gaps or tooth chips, and they are not suitable for entire smile makeovers as they lack the translucent properties of porcelain which provides a natural look. Composite veneers tend to last for only a couple of years, where after they will have to be removed and a new set of veneers has to be installed for further costs.
Unlike porcelain veneers, composite veneers are not stain resistant and they need frequent maintenance. So choose carefully, composite veneers are only the next best thing to porcelain veneers.
Knowing all these facts, which one would you choose?