I must say that I was amazed first when I read about hi-tech solutions in dentistry. I thought that I might actually a part of a science fiction movie. Inn addition to veneers I would like you to find out about CEREC Technology too!

The term CEREC stands for Chairside Economical Restoration of Esthetics Ceramics, and using the latest CAD/CAM (Computer Aided Design/ Computer Aided Machinery) technology, so dentists are able to create crowns and veneers with amazing precision thanks to the revolutionary 3D imaging that is used to make an optical impression of your teeth. OK. This sounds a bit scientific, right?
This is how it is done:
For the best optical impression, your tooth is painted with a non-toxic titanium dioxide powder before the scan.
Once the patient's mouth is scanned, the CEREC milling machine is able to create the Cerec veneers within 20 minutes using high-speed diamond burs, instead of having to wait several days to have the work done by a technician outside of the doctor's office.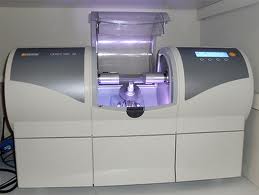 Pretty impressive, huh?
The result is an amazing, properly fitting and colored dental restoration that looks like your natural teeth or just as you wished for. When the restoration is completed, it will be permanently bonded to your tooth. The CEREC made porcelain veneer will last as long as any other porcelain restoration.
Using this technology patients are in need of crown or veneer replacements can have the entire procedure done in just one visit at the dentist and the amount of injections and drilling is reduced too.
Patients who have had their teeth covered with cerec veneers are usually very satisfied with the results and the price of Cerec veneers is usually lower than the price of porcelain veneers as the production process is usually both faster and easier. Cerec veneers cost can vary from as little as £300 up to £700+ per tooth. The time required for making the preparations, manufacturing and installing a CEREC veneer is approximately 4 hours.
All I can tell, I would go for these! Pretty amazing! Have you ever seen this machine in real life?