Lots of millions of people all around the World know that sensitive teeth can make life in general a nightmare as it causes pain and discomfort that can make eating or drinking a painful experience.
Normally, this condition presents tooth pain after drinking cold liquid, eating hot or cold foods, or breathing in cool air. If the pain becomes unbearable, you should immediately go and see your dentist, as the nerve of your tooth could be exposed. Normally, sensitive teeth starts when the gums begin to pull away from the teeth and eventually the roots of  the teeth. When the gums pull away, the roots will be exposed to cavity too.
The exposed root tips contain small tubules that lead directly to the nerves of the teeth. Whenever pressure, hot, or cold elements travel down the tubules, it will trigger the nerves and result in pain. People with healthy teeth have these tubules covered by their gums.
Some tips for making you feel better once you have sensitive teeth: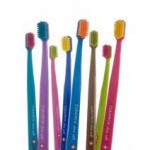 Reduce the pressure when brushing your teeth. Brushing them hard tears at the gums, which can lead to sensitive teeth. If you have sensitive teeth now, you should try using an electric toothbrush that massaging your gums firmly too or simply use a very soft-bristled toothbrush (I use Curaprox ultra soft 5460).
There are several toothpastes out there on the market that contain potassium nitrate, which helps you to reduce pain and discomfort associated with sensitivity. Although there are several toothpastes to choose from, according to my experiences Elmex's Sensitive toothpaste is the best, as it simply affects the nerve of the tooth and stops the pain where it starts.
Mouthwash can also help tooth sensitivity, providing it contains fluoride. It is important that the mouthwash does not contain any alcohol, like Listerine does. Elmex's Sensitive Mouthwash is a good choice here too.
Avoid professional (peroxide-based) teeth whitening treatments as they could cause or make your teeth even more sensitive.
If you have tooth decay, get it fixed by a dentist as soon as possible. Tooth decay is a bacterial infection of the tooth and one of the main diseases of the mouth where the enamel and the dentin are softened, allowing bacteria access to the dentin tubules and ultimately, the pulp. This process causes inflammation which makes the tooth very sensitive to any irritation.
Bad bite, recent fillings or dental work, partial tooth fracture, and advancing gum disease can cause sensitive teeth too, make sure that you consult your dentist immediately about this.
Tooth sensitivity is something that many of us unfortunately have to deal with – although there are ways that you can fight back or prevent the pain and discomfort.